Meet: Shelby from
She'll be having a baby in a few short months and to make room for baby, switched around several rooms in her house. One of Shelby's biggest challenges was to combine her office and craft spaces into one multi-functional, organized splace.
The large L-shaped desk was a DIY project…
Don't you love the windows, the light and that view?
The rest is creative fun vintage finds turned useful. So many treasures, such clever ideas.
Shelby shares all of her DIY at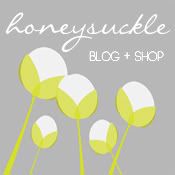 and vintages treasures in her Etsy shop…
Ps. Look for her beautiful mud room – gorgeous transformation!