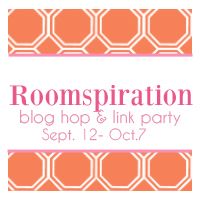 Join in the Roomspiration by adding your own laundry room or mud room by linking up today with Elizabeth from The Mustard Ceiling and her gorgeous stenciled laundry room.
I was getting all ready to do a post full of Pinterest inspiration but I think I'd rather keep it real today and show you our own home. No! Not the laundry room. We hold the record for blogger's ugliest laundry room ever so we'll just keep that a secret until there is a makeover to show off.
We have an area we call the "mud room" but it's not really since no one really enters through these doors. What would you make this space? I think I'll be looking for some seating to go in here…it's sunny in the mornings.
When we moved in, it looked like this:
It's off the dining room. We tore out that single door and installed a set of French doors…
We added a coat/shoe
closet
to an area that sat back beside the basement steps.
Mr. DIY installed slate tile. Isn't it pretty?!
We recycled and framed a huge frameless mirror that came with our home…
and here are some pictures of how it's looked over the last couple of years. I love to rearrange this area!
summer
spring
Then this…
Here it was last Christmas…
The orange chairs from the bedroom makeover (
here
) even sat in this 'mud room' while waiting for their debut in the guest room.
C
ome back tomorrow when I show you how it looks for fall. The DIY Fall Festival will start one day early this week (Thursday) due to the Roomspiration schedule and hosting
Roomspiration-Kitchen Edition Friday
!).
H
ere's the schedule for Roomspiraton. Hope to see you over at The Mustard Ceiling today!