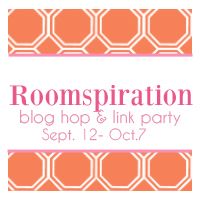 I
sn't the Roomspiration so much fun?! Have you been linking up and visiting the links? I love seeing inspiring bathrooms – real homes, real functional spaces and transformations, don't you? Today I'm joining SJ at
She has a beautiful master bathroom reveal.
W
e actually have 5 "bathrooms" in this old farmhouse which consist of a powder room in the unfinished basement (actually in the old scary original cellar part) which is only used because of convenient location when we're down there working on a project. No, I won't share that one with you at this time. It's clean with the exception of perhaps a spider because of it's rare use. When we get to remodeling the basement, renovating the small powder room be a part of the plan.
I've shared these next two before, but I love that I can show you how they've held up and stood the test of time AND have a little motivation to clean for current photos. 🙂
On the first floor, we have a guest bathroom and a powder room. These I will share with you. Both were budget friendly and serve as pretty functional use for us as well as guests in our home.
Powder room before was closed for business.
We took everything out and started from scratch.
(Sorry this is so gross! It's aood thing we could see the potential in this old house – a lot of areas were disgusting.)
It was originally a closet back in 1927.
Now it's light and bright and clean…
T
he first floor guest bathroom before was ugly but being a bathroom used by guests, I wanted to make it less of an embarrassment.
When we bought the house (minus the carpet – yes, carpet)…
Now…
When we bought the house except there was no door there.
Now…
The painted and stenciled floor was a budget friendly waterproof solution until a bigger budget is dedicated to this area.
The last two bathrooms in our home are upstairs. One full hall bathroom and a dinky teeny tiny master bathroom. Seriously – you probably have a closet that's larger. Those I will not share until I have a pretty 'after' transformation to 'show off'. They're both ugly, outdated and gross but one step at a time. Remember, we DIY and remodel as time and money allow. No debt. So until a few main floor projects are completed, those will stay our little secret.
Let's see what you've done with your bathrooms! Head over to join us at
and link up your bathroom makeovers!
I'm also joining my friend Cassity today at
Reminder for Monday!
H
ere's the schedule for Roomspiraton. Hope to see you there!
Fall Festival coming a little later this afternoon since both of these linky parties fell on the same day. 🙂
R
eminder to head over to
Shaw Floors' Facebook
to enter to win a new area rug or flooring for one of your rooms and to vote for Cassity and Roeshel. We'd love for one of our e-friends to win (and in return, we'd love our coastal cottage room to win too!). Good luck!