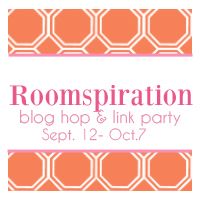 A
nother fun day of Roomspirations – Living Room edition hosted by Kelly at
I
haven't share much about our living room in a while. Nothing exciting or new going on in there except my new Shaw Ikat panel rug (you can win one
HERE
– Hurry! Today's the last day to enter!). The rest of the room is a "working with what we have" while other more important projects are going on. It's comfortable and it's where Mr. DIY, Lalka and I hang out in the evenings. In fact, I'm sitting on the love seat right this minute as I'm typing this up. There's a lot going on in our living room but we love it.
O
ur living
room that will undergo another DIY transformation again one of these days but not any time soon. When we bought this house, it had old nasty stinky carpet. Walls were painted wallpaper. First thing – out came the carpet and pine floors were sanded, stained and poly was applied. Wallpaper was scraped and painted.
Before
After – you never see cat trees/posts/condos in magazines…but it's real life for cat owners. I do love that hers is a neutral ivory fleece.
B
ecause of the layout of the room – see the pictures where there is something on every single wall…the tv is most convenient over the fireplace for us and believe it or not, we don't suffer from neck issues. 🙂
Before
After
Before

After – French doors now separate this living room with another family room/library/office room (not even touched yet – another project for another time). Sorry about the blinding lamp on the left…took this picture at night.
(Lalka can usually be found at the top of Mt. Kitty.)
Before – scraping painted wallpaper over plaster walls. Not fun!

After
W
hat do you think? Now how about you? Head over to the
View Along the Way
to see Kelly's beautiful living room and join us in sharing your living room in the Roomspiration party! Here's the schedule for the rest of the linky parties. Hope to see you there!