Let's get this party started!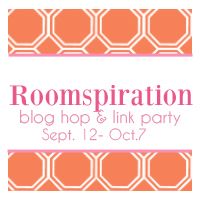 W
hat better way to kick off Roomspiration than with welcoming entryways, right? Pop over, knock on a few bloggers' doors by visiting Laurel Dawn at
Abode Love
(her entryway is GORGEOUS!) and walk right into some inspiring entryway links.
T
echnically, we don't have a front door or entryway yet. Previous owners enclosed the front porch/front door area and now it opens to the side. We don't use that entryway at this time, we use the set of French doors off the kitchen. So, until hopefully next year when we knock out a wall in the enclosed porch and add a beautiful front door area and entryway, I'm bending the rules for me and here is where we enter our home and what currently qualifies as our front entryway…
I'll be sharing the entry way area in our kitchen coming up soon. 🙂
And here's another entryway, the second set of French doors at the back of our home…
This area has actually undergone some changes but it's not finished yet. Another day or month or couple of months. I'll spare you the other two entryways because they are frighteningly ugly and it's not Halloween yet!
Head over to join the fun and link up your entryway at
H
ere's the rest of the schedule so you can join the parade and see more home inspiration! I'll be sharing some of our finished rooms that you've probably seen if you're a DIY Show Off fan, but I'll take some fresh pictures so it won't be so boring for you. And if you're a new reader…you'll get a look at where I live.
Don't forget to come back tomorrow for the