T
wo of my good blog friends have beautiful nursery reveals to share today. Congratulations to Jennifer and Molly on their new arrivals!

is new mom to a sweet little baby girl!
H
er nursery is perfect for a little princess. "Ocean Whisper" walls, colorful details.
L
ove the dark rich wood tone of this pretty crib…
G
allery walls…love them! This sweet one is no exception…
M
olly loves her new role as mother to a precious baby boy! Molly is the blog author of
My Happy House
C
am's nursery before was an extra bedroom…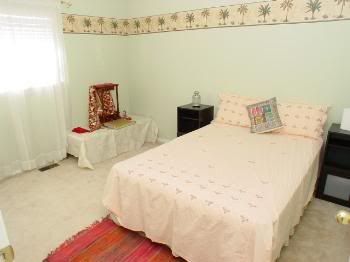 M
olly and her husband emptied the room, tore out the carpet, installed hardwood, new window casing and wainscoting!
N
ow here is the point of the makeover where you must get in line behind me to borrow Molly's husband, Carl and father-in-law. Not only did they do all of that hard work above, they build furniture too!
C
ustom made crib – check out those drawers underneath! Storage!
Isn't it awesome?
T
he nursery after…so peaceful:
Molly, Jennifer
~ you two have the cutest nurseries for the cutest little ones! I'm so happy for the both of you and love seeing the photos of your little angels and making them a comfortable beautiful room to call their own! Thank you so much for sharing!
~*~*~*~
How about something new for the place you relax and lay your head at the end of the day? There's still time to enter the HomeTalk $100 Target Gift Card giveaway.
ENTER HERE!
!!!!
Special thanks to my sweet real-life and blogger friend, Mary, for the awesome shout out.
Check it out at her blog, Everyday Baby Steps.