Time for some furniture makeovers! Ready? Click the link to visit the DIY Show Off behind the masterpiece!
R

ocky

B

ella
Before
After

R

ocky

B

ella
Before
After
C

opy

C

at

C

reations
From Shannon:
I wanted to show off my dresser. I needed a dresser for my 2 year old who is obsessed with cars. It was gonna be like 200 dollars for a cheap 5 drawer particle board dresser from Target and I wanted something of quality…but couldn't afford it. I bought this dresser off craigslist for 30 dollars. Its solid wood. I painted it black and then sealed it….I wish I would have primed it first….but what are you gonna do…it was my first DIY project. I then bought new knobs at Home Depot…if I had to do that again…I hear you can get a better deal at ikea online…anyways, I taped off the lines for the road on top and painted that white white acrylic paint (only b/c that's all I had on hand) I then cut out whole cars from car magazines and decoupaged them onto the fronts of the drawers. I think it turned out sooo great. He loves it and so do I! So, in total for the dresser, new knobs, paint, sealer, magazines and decoupage, It cost a total of $80. Not too
shabby for a solid wood 6 drawer dresser.
Y

oga

G

al
Before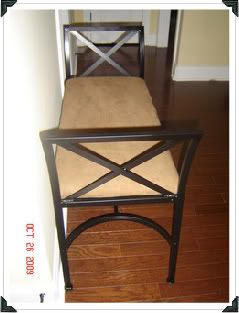 After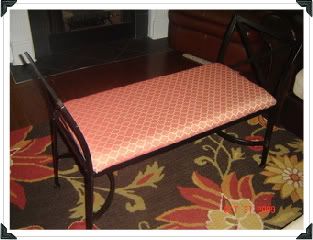 From Misty
Before
After
From Barbara:
(The before picture is from WICKER WAREHOUSE; I did not take a before picture.) I used a mahogany gel stain to darken the dresser. I bought the drawer pulls and legs on ebay. It still looked too plain to me so I bought copper sheeting online. I sprayed it with an ammonia/salt/vinegar solution and left it outside for a week to give it an aged patina. Then I cut a piece for the top and for each drawer and used copper tacks to attach. Finally, I outlined the piece in copper liquid leaf. It turned out so much better than I had imagined. Before:
After
Classic Campbell
Before


After

Home Sweet Home
Before


After

Living in the Moment
Before

After


Now…it's your turn. Link an old post or create a quick recap showcasing your hard work again…perhaps new readers haven't seen it! Show it off!
In either case – please post the button/link back to The DIY Show Off. Share the link in a quick note on your post today so everyone can enjoy the DIY Show & Tell!


What is it? It's always a surprise with a different theme and no specific date planned…just pops up out of the blue. I just knew you were looking for something to blog about today.
Show it off!
I
f you'd like to link
YOUR
DIY FURNITURE
post to the party:
You must use the button above and link to this post to share the linky love.

Add your permalink (not your blog url, but your Show & Tell post url).

Feel free to link a Past Post, just invite your readers in a current post with a quick note.

Or email your link to thediyshowoff@gmail.com and I will add it for you.
The party will run for a few days…so showing up fashionably late is acceptable. I will probably take tomorrow off from blogging so keep checking back for more links!
If you

notice

your link has disappeared –

please

add the link back to The DIY Show Off to your post today with a quick note to your readers about the party and try again! I love when everyone participates and readers check out everyone's links, but I think the return favor of linking back is the nice thing to do so everyone plays fair and enjoys all of the projects and links. Also – this Show & Tell is for FURNITURE makeovers and DIY ONLY. Links not related to DIY furniture will be deleted.

~~~~~~~~~~~~~~~~~~