First things first, my name is Meagan from
Harllee Design
.
I am new to blogland and I am honored to be guest posting on DIY Showoff!
I recently started Harllee Design and also a blog where I share all my DIY adventures, tutorials and home improvement mistakes wisdom.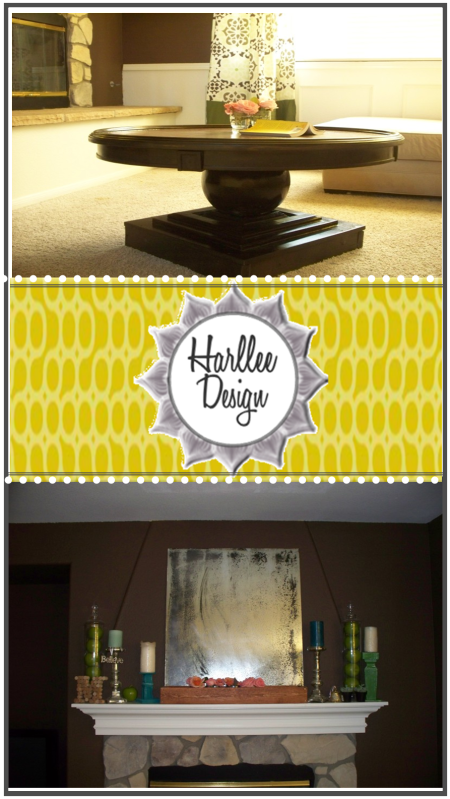 This is how I look in my mind's eye, put together and welcoming.
This is how I really look. Like a mad scientist that specializes in home decor. That frantic smile must mean it is 3:45pm and my husband will be home soon. I wonder where I will hide the shattered wine bottles.
I DON'T KNOW why it smells like nail polish remover in here. What is this, the inquisition?
Now that we have formalities out of the way I would love to share my latest tutorial with you. It was my most ambitious project yet and it came together pretty easily.
I saw this table on Pinterest and knew it would look perfect in my family room.
Look closely at the base, it looks JUST like a globe.
I then uttered the 6 words my husband dreads most:
"I think I can make that!"
1-13″ Globe – purchase one cardboard or another material you can cut. (I purchased my globe from Goodwill 1- 24″x 24″ x 1″ piece of wood
1- 19″x 19″ x 1″ piece of wood
1- 14″ x 14″ x 1″ piece of wood
1- 10″ x 10″ x2″ piece of wood
2- 24 x 2x 4 piece of wood
2- 20″ x 2″ x 4″ piece of wood
1- 4″ x 4″ x 14″ piece of wood
1- 13″ in diameter circle of wood
Wood for table top (I used a 42″ top of an old table)


1. Start with building the base. Predrill holes (I recently started predrilling, it makes things SO much easier)
2. Take the (2) 20

" x 4″ x 1″ and (2) 24″ x 4″ x 1″ pieces and attach to form a box. Congrats! You just made the foundation for the table.
3. Center and attach the 19″ x 19″ square to the top off the foundation, place screws in the center so they are covered up by the next layer.
< div class="MsoNormal" style="margin: 0in 0in 10pt;">5. Attach the 14″ x 14″ to your base by screwing through the top of the piece as shown below. You can cover the screw up with filler later.