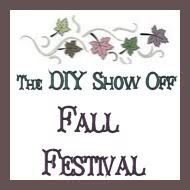 T

his past week I worked really hard shopping around for affordable materials and putting together a Halloween costume for my nephew. Although he wasn't having any part of it so, my 1 year old niece will be wearing it. I don't know if it would have fit him anyway. Here's what I did…
Chicken Body:
Materials: two onesies, stuffing, 2 feather boas.
Print on onesies isn't seen. I bought these ones because they were size 24 months. Go a couple of sizes bigger than child's actual size.
One inside of the other.
Sew together at the arms and neck and waist. Leave a space open at the waste.
Add stuffing (I killed an old pillow) between the layers of sewn onesies.
Sew hole at waste to enclose stuffing.
Two feather boas hot glued around the stuffed onesie.
Rooster Hat:
Materials: One white knit hat. One red knit glove. Stuffing.
Cut cuff off of glove.
Cut hole in top of knit hat same width as bottom of the glove.
Stuff the glove.
Sew glove shut.
Turn hat inside out. Insert glove inside of hat with seam facing up towards hole in knit hat.
Sew together making sure all rough edges are 'caught'. All done. Flip right side out. Embellish with extra stray feathers from boas.
Optional. Add:
Leggings…
Stuff fingers of rubber gloves and slide over shoes…however DO NOT let child wear them for walking, only picture purposes, sitting or costume judging.
Super cute chicken costume (adorable model!)…
N

ow it's your turn! Let's see your DIY Fall Related project!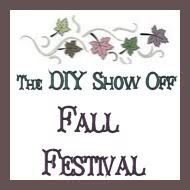 •Create a blog post about an Autumn/Fall project that YOU HAVE CREATED. Feel free to include a past link, however please make a note on a recent post about the DIY Fall Festival to invite ever
yone over to join in or to search the collection of fall inspired ideas.
•Add your project title to Linky party below. (example: House # Pumpkins)
•Type in the permalink address, not your basic blog address. A permalink is the address that links directly to your specific post. (example: http://thediyshowoff.blogspot.com/2009/08/house-number-pumpkins)
•Please add the DIY button or link to the party in your post to share the party with your readers.
•Although a tutorial is helpful, it's not required. It just must be your project. Please only link up same project once to one party.
•If you notice that you're link disappeared, please make the correction according to the rules above and re-link!
That room is pure perfection! So charming.
Congratulations, Jenna Sue! I'll be contacting you by email/via your blog! So exciting!
More
AWESOME EASY CHEAP DIY FALL PROJECTS:
Super sweet Hurricane Irene Hurricanes
at


~*~*~*~*~
I am so honored for the shout out from two amazing blog friends this week!
Thanks to Mr. GoodWill Hunting! I love his ability to find amazing things and transform a room magically on a very tight budget!
and check out this interesting post from Kathy at Sassafras Salvation and what my guest bedroom makeover has to do with the 1960s! So cool!
Pin It