M
eet: Suzy from The Better Decorating Bible. She's hosting today's DIY Show Off Fall Festival and sharing her super easy, nearly free fall DIY decorating tip this week. Suzy is an interior decorating and fashion enthusiast who is obsessed with everything luxury, unique, glamorous and most importantly – on an amazing budget. I love her style, her blog and her projects. Here's Suzy with two chic and easy DIY fall projects:
Take advantage of the fall colored leaves this season, and put them to use! Here are two easy fall DIY project to do this weekend:
How to Frame Your Leaves
1) Prep your leaves BEFORE the weekend – pick your favorite colored leaves from your backyard and press them into a heavy book (telephone book is great). Stack more books on top to weigh it down for a few days till the leaves dry.
2) Choose a frame that's proportional to the size of your leaves and arrange them onto a background of your choice. Use a bit a craft glue to set them into place and put together your frame. Enjoy!


How to Make Fall Candles with Pressed Leaves
1) Set your leaves on a flat surface and brush a thin layer of craft glue (or Mod Podge) onto each leaf.
2) Press the leaves onto pillar candles and brush another layer of glue (or Mod Podge) over them. Set them to dry.
3) Scatter loose leaves or rocks around your candles for decoration, and Voila!
Better Homes and Gardens
See more great ideas, beautiful decorating and inspiration at
N

ow it's your turn! Let's see your DIY Fall Related project!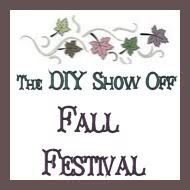 •Create a blog post about an Autumn/Fall project that YOU HAVE CREATED. Feel free to include a past link, however please make a note on a recent post about the DIY Fall Festival to invite everyone over to join in or to search the collection of fall inspired ideas.
•Add your project title to Linky party below. (example: House # Pumpkins)
•Type in the permalink address, not your basic blog address. A permalink is the address that links directly to your specific post. (example: http://thediyshowoff.blogspot.com/2009/08/house-number-pumpkins)
•Please add the DIY button or link to the party in your post to share the party with your readers.
•Although a tutorial is helpful, it's not required. It just must be your project. Please only link up same project once to one party.
•If you notice that you're link disappeared, please make the correction according to the rules above and re-link!
• By adding your link, you give the DIY Show Off permission to highlight your project in a future post. Enjoy and be inspired!
Reminder: Today's the last day to link up your kitchen in the
Roomspiration Kitchen
series! I'm still going through the links so if I haven't visited you yet … I'll be seeing you soon!
Pin It