I
t's that time of week to share your latest DIY projects! We've been doing a LOT of things around our home this past week. For those who have asked, I do have a regular job as a medical transcriptionist for a local health care facility so for some of what I'm showing you below, there just hasn't been time to do a tutorial (the wood shed Mr. DIY's building or venting the bathroom fan). I'm sure you understand, right? We're always here to answer questions though! Anyway, here are some sneak peeks that prove our crazy week. Pardon me while I step away from the computer for a nap. 🙂
It's time for grape harvesting (although we don't have time for grand plans just some fresh grapes and grape juice).
The grapes smell so good, taste so sweet and are bursting with juice…
(We never did do pavers underneath yet. Thanks to
Krylon
's spray stain, the wood is protected!)
Some other goodies from the garden were picked…
B
un feet, TransTint and foam brushes are available at Rockler. See more about the products and technique I used at The DIY Club.
M
r. DIY with the assistance of his talented father-in-law, Butch, is building a wood shed for firewood…
and vented the bathroom fan through the attic and out the side of the house…
Cleaned for photos and had an interview with our local newspaper…
W
e've decorated for Christmas (details coming up in the future) and packed some of it back up…
S
crubbed down a thrifty find…
T
ook care to protect the floor using felt weather stripping, Gorilla Glue and felt furniture protectors (see the DIY Club for more details)…
E
ven Lalka pitched in. (More on this project coming up in a few weeks)
S
ome of these projects are finished and I'll be sharing more soon. 🙂
L
et's see what's been keeping you busy!

1. You must use the button above (ADD BUTTON HTML CODE FROM SIDE BAR TO YOUR POST) and link to this post to share the linky love.
2.Include your name or blog name and project title. Add your permalink (not your blog url, but your DIY project post url). Feel free to link a Past Post, just invite your readers in a current post with a quick note.
3.Or email your link to thediyshowoff@gmail.com and I will add it for you.
4.If you notice your link has disappeared -please add the link back to The DIY Show Off to your post today, a button or a quick note to your readers about the party and try again! I love when everyone participates and readers check out everyone's links, but I think the return favor of linking back is the nice thing to do so everyone plays fair and enjoys all of the projects and links. Also – this blog party is for DIY projects only. Links not related to DIY will be deleted.
5. NOW you can "like" the links! What a fun idea! Most liked links may be included in a post of DIY Project Parade highlights later in the week! 🙂
T
here's still time to enter the giveaway for ANY size/ANY style HGTV Home collection area rug from Shaw! HERE.
And we'd love to have you enter the giveaway every day in September for flooring for your home and have your vote for our room! Pretty Please?!!! Click here to enter and vote every day in September (1 floor given away every day!)
Guess what starts tomorrow: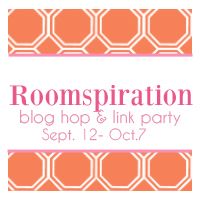 Hope to see you there sharing your entryway!
Today is the 10th anniversary of the September 11 attacks. Remembering those who lost their lives that day. I'm so thankful for our military members and their loved ones who have sacrificed so much in the fight to protect our country and our freedoms.