I just wanted to share a few highlights from this week's DIY Project Parade. So much inspiration, you guys. If I could, I'd highlight every one! You all rock! Here are just a few favorites from this week. Please visit the link to see the original post with all of the details and more pictures! Then head over to visit other links in the party here or link up your own.
Pretty Vintage Suitcase Makeover
and
Craft Armoire Before and After
Embracing the Change

Before…
After…
Beautiful Bathroom Before/After
Keller Creative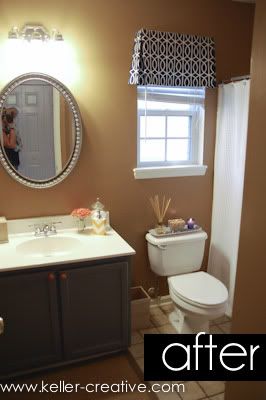 Before…
Gorgeous after…
I also LOVE Mel's Ballard Designs Knock Off Moulin Cube.
Inspiration $269:

Her $20 version is awesome!

Best Outdoor Seating Areas and inspiration by Debbie and Angela
Tres Cherie Vintage Market

Clever vinyl floor makeover
In My Own Style
LOVE this Pottery Barn knock off clock table by
Korrie at Red Hen Home



Reminder: Today's the last day to enter!
HomeTalk $100 Target Gift Card Giveaway too (HERE).
Get your friends to enter too – there's a bonus that doubles the prize!
Darn multi-tasking and distractions! This was to publish Friday morning! Oops! Have a wonderful weekend!