I
'm not ready to show off today but I did
finally
finish painting the kitchen cabinets. ::celebration dance:: Tutorial coming soon and next step is choosing our countertops. I'd love to have a kitchen like the one shown below with soapstone counters, but realistically granite is our best choice since our kitchen is Mr. DIY's creative lab of delicious cuisine and experiments. Soapstone dream….
javascript:void(0)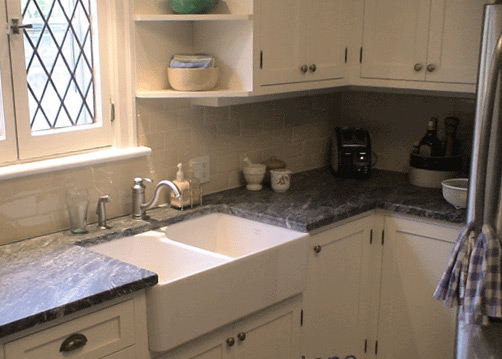 G
ranite dream (more realistic).We're hoping for "jet mist" granite like this which has a similar look to soapstone:
but ultimately, it depends on what we can find locally. I know it wasn't a choice at two local granite places two months ago when we first started looking. Wish us luck – since I can't have soapstone I "need" to find this granite locally. I don't want to settle. Edit: Please note those are dream/inspiration pictures above. My doors are still not back on (they're drying) and our current countertops are blue laminate! The floor is white OLD linoleum. I can only dream that my kitchen will look as beautiful as above!
In the meantime, I'd love to see what you've been up to!
If you'd like to link YOUR DIY project post to The DIY Show Off Project Parade:
1.You must use the button above and link to this post to share the linky love.
2.Include your name or blog name and project title. Add your permalink (not your blog url, but your DIY project post url). Feel free to link a Past Post, just invite your readers in a current post with a quick note.
3.Or email your link to thediyshowoff@gmail.com and I will add it for you.
4.If you notice your link has disappeared -please add the link back to The DIY Show Off to your post today, a button or a quick note to your readers about the party and try again! I love when everyone participates and readers check out everyone's links, but I think the return favor of linking back is the nice thing to do so everyone plays fair and enjoys all of the projects and links. Also – this blog party is for DIY projects only. Links not related to DIY will be deleted.