"Organizing is what you do before you do something, so that when you do it, it is not all mixed up."

~ A. A. Milne
W
ith the new year, the buzz is all about organization. After taking down holiday decor, everything feels so de-cluttered so it's only natural that motivation to get everything organized hits you like a contagious disease but it's energizing instead. As you know we finally organized our
coat and shoe closet
recently. It was a chaotic mess with no purpose. Now coats, boots, shoes, scarves and hats have a place to call home. Do shoes and coats and junk piling by the entryway get you stressed? Maybe not in a 'the world is coming to an end' sort of way but it is stressful when things aren't put away in their proper place or there isn't a place for things to be assigned.
G

etting started is the hardest part but in no time, I was cleaning our and de-cluttering the rest of our back entry way and was done in less than an hour. Tell yourself you'll just do one small drawer. Empty it, sort and start putting things where they belong. Before you know it, you'll have three drawers done instead of one. I always trick myself with making a small goal. The trick is getting yourself to "START". Instead of looking at the BIG overwhelming picture of organizing your entire home or even a whole room, start small and say "I'm just going to clean up this little area." Once you get started, you'll want results and do more than just that one small task.
K
eys, change, cell phones have a designated and assigned area near the door with this organizer I made a couple of years ago (yes – we still use it!).
Key Keeper Tutorial
W
e chose furniture that allowed for extra storage. I love decorating the console table but it's the drawers and shelf that allow us to know where certain things are. The top drawer holds take out menus, batteries, spare change, etc.
T
he faux-apothecary chest is a great place for my summer shoes (my boots are in the coat/shoe closet).
The drawers up top serve as a place for gloves and extra sets of keys. Sometimes I'll use a drawer to hide a few odds and ends during a 'quick clean' to corral little stuff until I have time to sort it. Wooden boxes under a bench provide more storage and the bench is the perfect place to sit and pull on shoes.
D
o you have an organized entry area in your home? We actual enter through the door in the kitchen right now as it's closest to our parked cars but I'm still able to redirect coats and shoes to be put away instead of piling near the door.
No mess. No stress.
🙂
Have a clean up/organization post to show off? Link up and share!
SHOW OFF ORGANIZATIONAL AND CLEANING TIPS!
I'm joining the party at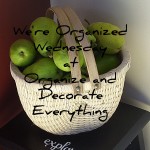 I'm back!

THIS is why it takes me longer than usual to organize:
I start out small. "Just sort and put things away" I tell myself (you know you talk to yourself too, right?!). Then I get carried away with the need to freshen things up, redecorate, rearrange and move things from room to room and before I know it, I have a new reading nook! Let the above pictures serve as the before. This is my after:
It's sort of a reward for being motivated to clean up. 😉 However…warning: This means you'll mess up the adjoining room in an effort to redecorate and have to start all over again in there.
TGIF!