H
ere are my most recent thrifty finds. I grabbed 6 of these coat racks ($1 each). We built a closet in our back entry and these will work perfect there. I'll keep you posted of the before/after makeover.
These chemistry flasks. 4 for $5.
Off topic, but my favorite thing about spring…fresh bouquets from the yard!

Back to thrifty finds.
Antique radio and clock:

A pretty mirror and a lace table cloth from Mexico:
We didn't miss out on thrifty treasures by being in Mexico.
Playa del Carmen is a great place to shop with shops, flea market style with restaurants just a block from the beach! There is also a 30 min. ferry boat ride to more shopping in Cozumel! We did have to buy an extra bag to check in at the airport. 🙂
Souvenirs!
I really love these sinks but we didn't bring one back. 🙁
Mr. DIY couldn't resist the poncho, embroidered shirt and sombrero.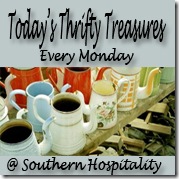 Here is our upcoming list of DIY projects coming up.
1. Closet organization/makeover
2. Guest bedroom makeover
3. Fireplace surround build-up
4. Bistro set transformation
5. Dining room redo
6. Painting kitchen cabinets
7. Window box planting
N
ow, if only I could get caught up and finish something! Just writing this gives me motivation. With vacation, I have some of these projects started and in progress.
T
ime to finish up and move on! 🙂
—

This post is brought to you by

Replacement UV Bulbs
, by Purely Products, are the perfect inexpensive OEM alternative to brand name bulbs.