In order to participate in one of my favorite parties,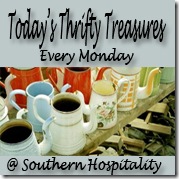 I'm sharing my latest thrifty treasures. If you're a regular follower, you've seen a few already but it's a party. You don't mind, do you? Besides there are a few you haven't seen yet. 🙂
T
his wire basket is an older find, but when playing dress up with our new made over l
iving room
, I put it on the coffee table.
Mr. DIY said "it looks like a flea market." I said "thank you"!
haha! I'm sure he meant it as a compliment! I like it here but I change this decor out on a weekly basis since I love fresh flowers.
I
scored a bunch of vintage boxes and crates at an estate sale. Is it a little obvious that I love them?
I
'm not 100% these one will stay here…they're a little too vintage for the back entry furniture but for now…I'm enjoying looking at them until a better location comes to mind. I'm fickle that way anyway and move things around often. Redecorating is the reward to 'cleaning', right?
A
nd this old fan for $10 which works too well. It scares me with it's industrial strength, metal blades and room for fingers but I love the look. We just leave it unplugged. If there comes a time when we need it, we'll use extra caution. I like all of my fingers intact.
O
h and this thrifty find from previous owners. An ugly brown unloved peg hook/coat rack which I rediscovered and painted for our
bathroom
.
I
have a few more thrifty treasures I got just this past weekend too but you'll have to wait to see the transformation. Always a DIY project in the works. or two or three. 🙂
So, have you found any thrifty treasures recently?
————————


This post is brought to you by Tiger Claw hidden deck fasteners – found at DIY Home Center your source for premium & unique products for your home, deck and patio area.