L
ooking for some DIY Valentine's Day projects? Check out previous posts
here
and
here
AND these sweet projects below then share your own. 🙂
I love this tutorial from Tidy Mom. Rosettes are on my DIY to-do list and she makes it look so easy! It's a great Valentine idea for friends. I'd love to get one, wouldn't you?
>
I started with a 9×12 piece of red felt that I bought at Michales. Grabbed a glass that was about 3″ in diameter, and traced 6 circles on my piece of felt, then cut them out.
Next you can follow the steps in my picture.
(you also click the picture and choose to view in a larger size for detail)
Take one circle, fold it in half,
then in half again.
Hand stitch thru the bottom point enough to keep it folded.
Then do the same with each of the circles. I just went from one to the next pulling my thread tightly to keep them all together(I just placed them randomly around each other, not in a stack…it will make sense when you're making it, you basically want the tips sewn together). When I had all 6 pieces attached I put a few more stitches in to keep them nice and tight together.
Next sew them onto a little pin backing (you can these at Michaels in the jewelry making section).
These were so easy and I love how they turned out! The red makes them perfect for Valentine's Day!
You can wear them on a sweater or jacket, t-shirt, on a bag……or give as a gift!
You could even use them as embellishments on scarves, hats, or pillows – oh, you get the picture!……just sew them right on instead of pining them on!
*~*~*
Yummy! Who doesn't love easy Valentine goodies?
Check this out:
Owl be your Valentine
from La*T*Da
*~*~*
I love this post and sweet idea by Tara at Feels Like Home blog about love notes for kids. What a special way to make your little angels feel loved!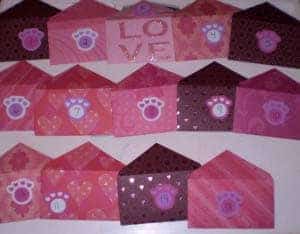 ~*~*~*~
I
f you'd like to link
YOUR
DIY

VALENTINE

PROJECT
post to the party:
You must use the button above and link to this post to share the linky love.

Add your permalink (not your blog url, but your Show & Tell post url).

Feel free to link a Past Post, just invite your readers in a current post with a quick note.

Or email your link to thediyshowoff@gmail.com and I will add it for you.
The party will run for a few days…so showing up fashionably late is acceptable.
If you

notice

your link has disappeared –

please

add the link back to The DIY Show Off to your post today with a quick note to your readers about the party and try again! I love when everyone participates and readers check out everyone's links, but I think the return favor of linking back is the nice thing to do so everyone plays fair and enjoys all of the projects and links. Also – this Show & Tell is for

VALENTINE'S DAY PROJECTS ONLY.

Links not related to DIY VALENTINE PROJECTS will be deleted.
PK from Room Remix blog is having a sweet giveaway!
Click
here
for more details.