S
o, I'm checking my favorite blogs and
whoa
!
I
discovered a new party over at
F
unky
J
unk
I
nteriors
!
Remember my friend Donna (the beautiful horse gate coat rack?)
You know me – love blog parties and it is Saturday night. I'm up for a party…pardon my paint splattered hair.
Since my current project is a work-in-progress, I thought I'd link one of my favorite projects from the past and join in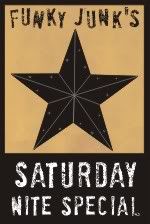 H
ere it is:
When I saw a cute chair in a Better Homes & Gardens magazine (100 Decorating Ideas under $100, Spring 2009), I couldn't resist making my own little whimsical chair for the mudroom using this chair:
Materials:
Old wooden chair (sanded)
Primer
Canvas alphabet stickers (& may need some adhesive spray glue) or the article mentioned using chipboard letters (flowers would be cute for a little girl!)
Spray paint
Throw pillow/coordinating ribbon (optional)
I removed the seat and sanded the chair (okay, so I had Russ sand the chair – even better!). I then attached the stickers. I had to use a spray adhesive on the back of some of them to get them to really stick. I attribute this to the chair not being fully sanded.


Then I used primer over the entire chair and stickers using a brush but using a spray primer would have worked quicker.


After that dried, I used this great spray paint for the final coat. I love this spray paint with a trigger (Home Depot)!


After paint dries, reattach the seat and add a cute throw pillow. I sewed ribbon to the corners so it would stay put and all done!

Edit: The pillow is from DwellStudio Baby (alphabet boudoir pillow). I bought it from All Modern Baby but I think it's sold out most places. A google search might help locate one.
Head over and check out the other links! It's where I'm headed. What a fun party!