I've actually been spring cleaning in the fall (a car full of junk donated and more space feels soooo good) and preparing for guests but Bri and I did manage to decoupage some pumpkins. Have to fit a fun craft project in there somewhere to break up the work, right? It's not an original project but results are always original.
After seeing the beautiful scrapbook paper from
Canvas Corp
…
I chose to give my black pumpkin a new look to make my craft room a little more festive (I still have to do a reveal of my craft room ,don't I? Enjoy the sneak peek!)…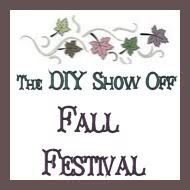 •Create a blog post about an Autumn/Fall project that YOU HAVE CREATED. Feel free to include a past link, however please make a note on a recent post about the DIY Fall Festival to invite everyone over to join in or to search the collection of fall inspired ideas.
•Add your project title to Linky party below. (example: House # Pumpkins)
•Type in the permalink address, not your basic blog address. A permalink is the address that links directly to your specific post. (example: http://thediyshowoff.blogspot.com/2009/08/house-number-pumpkins)
•Please add the DIY button or link to the party in your post to share the party with your readers.
•Although a tutorial is helpful, it's not required. It just must be your project. Please only link up same project once to one party.
•If you notice that you're link disappeared, please make the correction according to the rules above and re-link!
• By adding your link, you give the DIY Show Off permission to highlight your project in a future post. Enjoy and be inspired!

See more of my projects at


Pin It