This is a Sponsored post written by me on behalf of Honeywell International Inc. for SocialSpark. All opinions are 100% mine.
We weren't in the market for a new thermostat. Our older digitial Honeywell thermostat did the job but when the opportunity to try the new Honeywell Wi-Fi Smart Thermostat with Voice Control came up and after doing a little research, we decided that the options were super cool and convenient and something we wanted.
1 – Voice Control. Of course the fact that it has a voice control option is cool and super high tech but it's also convenient. (And yes, maybe even a little lazy…but the same was said when the television got the remote option and we didn't have to get up off the couch to turn the tv channel. Remember that? Now we can't live without it!) So, saying "Hello Thermostat." and "Make it 2 degrees warmer (or cooler)" without getting up is a luxury! It recognized the voice command on the first try and even when I accented "Helloooo Thermostat" in the same way as Jerry Seinfeld's "Helloooo Newman"! It even has volume and sensitivity settings. And you're likely to lose your voice less often than you are a remote. 😉
2 – Remote Access. Another convenience! I can check and control my thermostat from any computer by logging into MyTotalConnectComfort.com or using the TotalConnectComfort app on my iPhone (also availabe on Android). So just like I can warm up my car with remote start, I can also warm up or cool down my home before I arrive or make adjustments if I forget when I leave the house. Or mess with my husband when he's home alone. haha!
via computer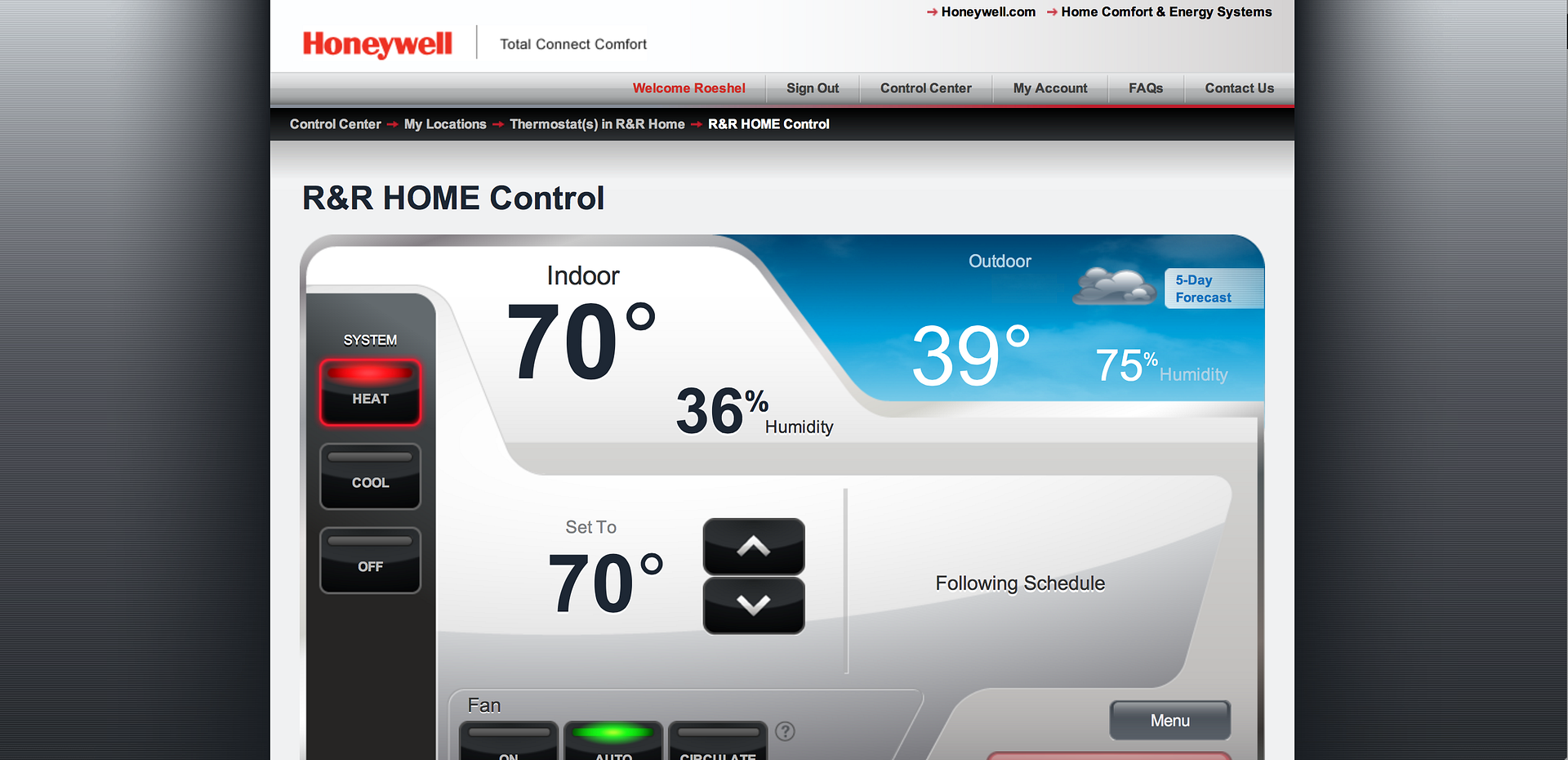 via app
3 – Easy Installation. I didn't include a tutorial because more than likely your wiring is different than mine and Honeywell provides well written detailed instructions as well as a quick start guide and helpful installation videos. With everything I needed right in the box and just a few tools (tiny/precise standard screw driver, Phillips screwdriver, level and drill for making pilot holes) as well as helpful installation videos online (including support and different videos for differing wiring options), installation was so simple, I was able to install the thermostat myself while my husband prepared dinner. WiFi set up and registration are simple too! Note: It's tinier than it looks! See my picture below. So you may need to touch up your wall paint if previous thermostat was larger or a different shape. It looks like a shadow in the picture, but that's paint I need to touch up.
4 – Smart Response. It's pretty neat that outdoor and indoor temps and humidity are displayed. Custom scheduling is another awesome option. I work from home so we don't have to schedule Mon-Fri to accomodate being away from home but for us to schedule heating and cooling that works for our routine means waking to 70 degrees and falling asleep to 67 degrees seven days a week. Having it automatically adjust means no waking up sweating in the middle of the night because we forgot to adjust the thermostat and having to getting up and walk downstairs to make the change and not stepping out of bed and shivering first thing in the morning is pretty nice too!
5 – TouchScreen. Easy to read and customizable. I can choose screen colors that match my decor! And we're not talking just tacky primary colors. Options include Midnight, Aurora, Plum, Blaze, Tangerine, Ice, Rose, Lavender, Chrome, Cabernet, Waterfall, Pear, Emerald, Berry, Sunshine. Something for everyone! My husband prefers the Midnight…black for a sleek, high tech look. I may change it to Rose or Cabernet for Valentine's day when he's not looking.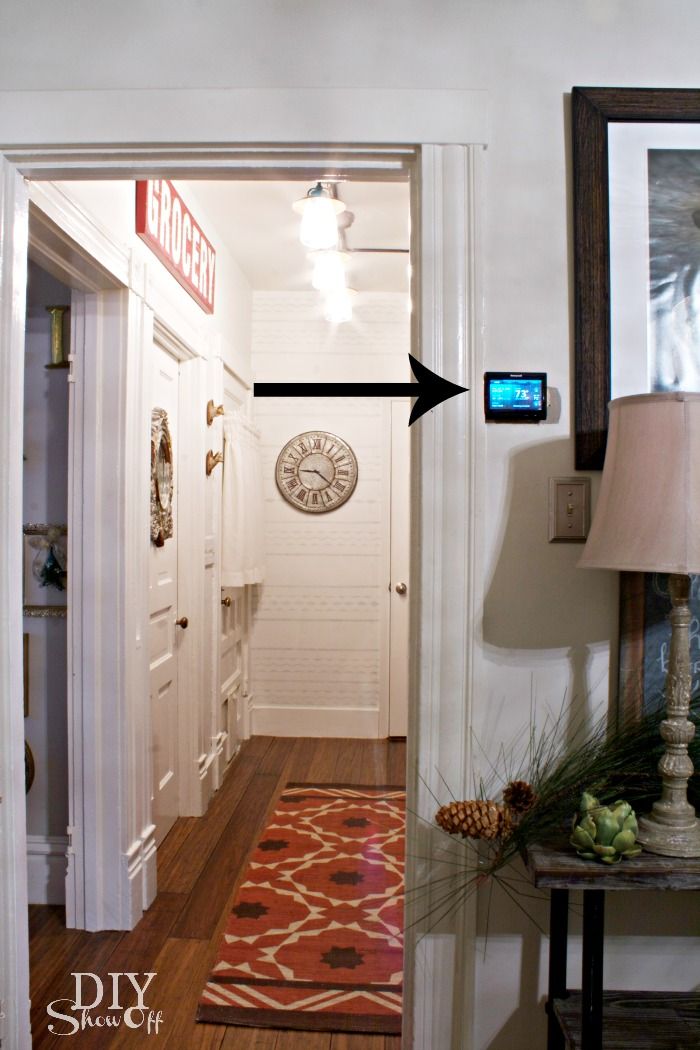 Pretty cool, right? How can you get one? Before deciding if this is the right thermostat for you, review the details and specs here: Honeywell Wi-Fi Smart Thermostat with Voice Control. The Honeywell WiFi Smart Thermostat with Voice Control is available at Home Depot, Amazon.com and BestBuy.com. The Honeywell Wi-Fi Smart Thermostat with Voice Control was named Best New Product of 2013. You can also enter to win one right here!
THIS GIVEAWAY IS NOW CLOSED! Winner is:
HONEYWELL WIFI SMART THERMOSTAT WITH VOICE CONTROL
1. Leave a comment below telling me what's your favorite feature of the Honeywell WiFi Smart Thermostat (I've listed them listed above).
2. Giveaway runs today, right now and ends Friday, January 24th, 2014 at midnight EST.
3. Winner will be chosen randomly and announced shortly after.
4. Open to US residents 18+ years of age only.
5. One entry per person.