I

'm sitting here multi-tasking: surfing the web, looking at entries for today's blog post, searching inspiration (I could look at beautiful homes all day long), taking a break for dinner, trying to figure out how the Nook works that I got for my birthday and watching "Speed" out of the corner of my eye. Anyway, my point is…I came across Elizabeth's home tour, before and after transformations and DIY projects and knew right away that I wanted to introduce her to you. I love that feeling – motivation that I get from the blogging community, don't you? Elizabeth will inspire you.
H

er blog is dedicated to her obsession with interior design, do-it-yourself projects and other daily musings. 🙂
Here

are a few before and afters of her gorgeous home.
K

itchen before had charm but an outdated feel with what she calls 'groovy gold' countertops and matching dishswasher…
K

itchen after is so pretty with even more charm. I'm glad she kept the sink – love that! The open shelving is so convenient and a great way to bring more interest to a wall of cabinets.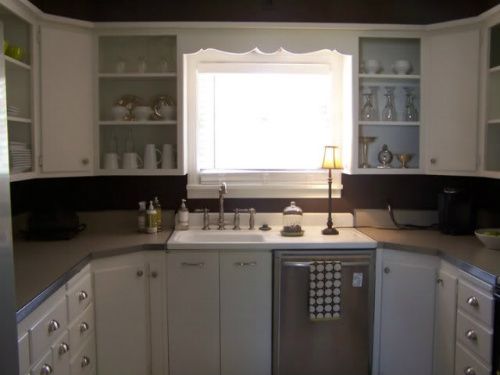 B

edroom after…chocolate! I spy with my little eye something beginning with a L-O-V-E (remember that car game?!). A couple of things I want: that bedding, the chairs, that rug and chandelier!
I

want to curl up on the couch with a throw blanket and good book and never leave this living room:
E

lizabeth's husband also contributes to The Mustard Ceiling blog. I love this post about the "Cloffice"(closet office)and living with an interior designer…
And great

tutorial on wainscoting

(their gorgeous dining room):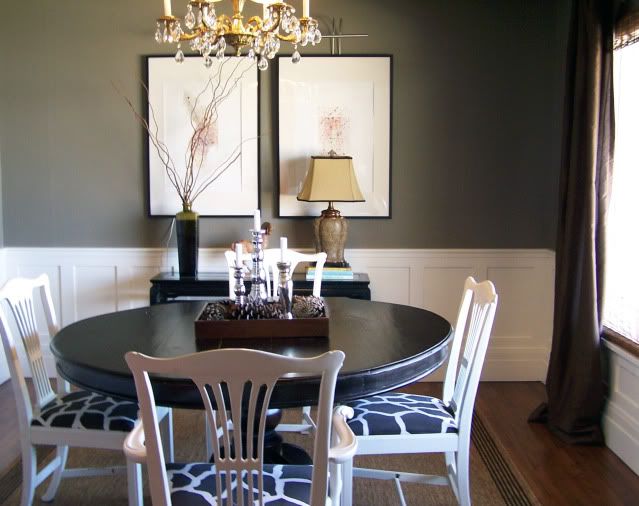 L

earn how to DIY these chevron magazine files at "Dressin' it Up". So cool!
S

ee more of Elizabeth's DIY projects as listed below:
Tutorials
I

t makes me want to get up off the couch and tackle every project all at once, not knowing where to begin! Thank you so much for sharing your before and afters and DIY, Elizabeth (and Alfred). Beautiful job on every single detail!